Tree stand hunting is a hunting style that involves sitting in a tree above the ground, remaining perfectly still for hours on end, while remaining alert and focused, waiting for your game to walk within shooting distance of your tree stand.
This can be a very effective technique if you have done some scouting to identify the high traffic areas or funnels that the deer are regularly moving through.
The first tree stand was developed in the early 1970's and over the years the designs have changed and improved dramatically, to produce the current extensive range of models for all environments and hunter capabilities.
So why have tree stands become so popular?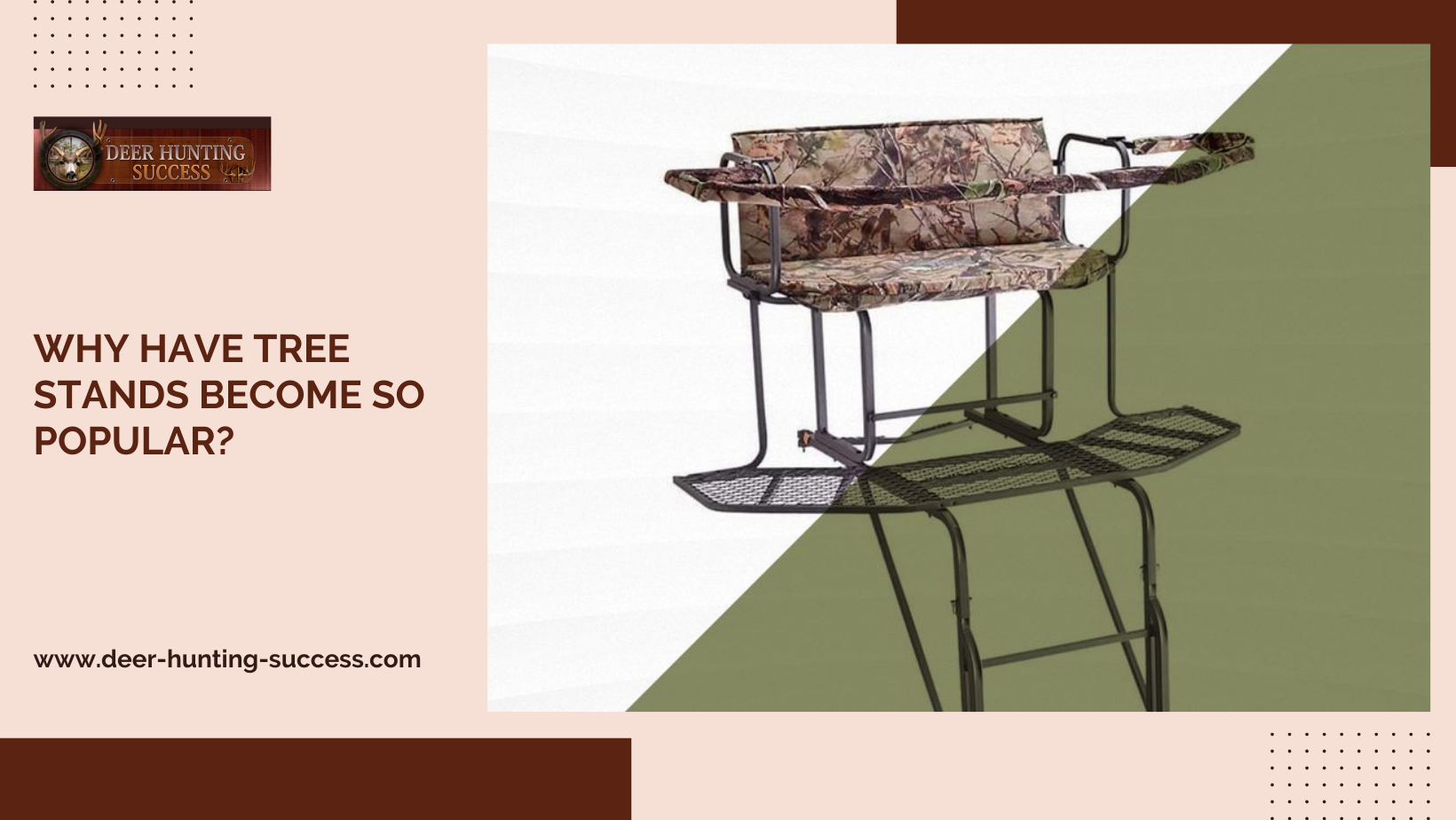 Tree stands were developed to give the hunter several advantages:
Increased height gives better visibility over a bigger area compared to being on the ground
The hunter is able to be more concealed from the deer's field of view
Raising the hunter's scent above the ground to minimize being scented by the deer
Not moving around and making a noise especially on noisy leaves or crunchy snow
Prevent getting spotted first by the deer
The option of some protection from rain, wind and/or the cold. It can range from a canopy over your head, to a blind with a heater. When the weather is hot, a canopy can provide shade so you can stay cool while you are waiting
Having the ability to see or hear the deer moving first
The ability to shoot over limbs and brush
Suited to unfit hunters or disabled hunters
Popular for bow hunters who need to be closer to their target
With these advantages, it is no surprise that tree stand hunting is so popular [Pope and Young Club records for the 19th recording period show that 90% of the 2793 whitetails entered were shot from tree stands or ground blinds].
With that popularity has come the manufacture of a variety of tree stands and accessory products on the market. There is a lot of choice of tree stands for different environments, so it is important to choose the correct stand for the type of hunting environment you are in.
Fixed tree stands are essentially a small seat and a foot platform attached to the tree. To hang these stands you need to also carry either climbing sticks or climbing steps.
Climbing tree stands are generally bigger and heavier than fixed stands but are designed so you use them to climb up the tree while you are attached to the stand. They have the advantage of mobility as you can carry them around and climb any appropriate trees during your hunt. The disadvantage is that they are only suited to certain types of trees.
Ladder stands comprise a ladder with a seat or chair at the top that is leaned against a tree, and then secured into place with straps. They are very stable and suited to unfit hunters or those who don't want to climb trees.
Tripod stands are a chair or seat supported by 3 or 4 legs placed on the ground. They are suitable for areas that have no trees, or the trees are too small to support a hunter. They have the advantage that they can be set up anywhere, but the disadvantage is they are usually heavy and are not carried around easily.
Choosing the correct tree stand for your hunting environment and climbing skills is critical to your hunting success.
It is also vitally important to understand the risks and hazards with using tree stands and how to avoid accidents.
Related Links:
https://en.wikipedia.org/wiki/Tree_stand /By Wikipedia
https://en.wikipedia.org/wiki/Hunting_blind /By Wikipedia
https://en.wikipedia.org/wiki/Hunting /By Wikipedia
https://en.wikipedia.org/wiki/Hunting_strategy /By Wikipedia
https://www.wikihow.com/Hang-a-Treestand /By Wikihow
https://www.wikihow.com/Hunt /By Wikihow
https://www.wikihow.com/Bow-Hunt /By Wikihow